Articles
Acquisition of Cyprus Citizenship due to Cypriot Origin – Contact Us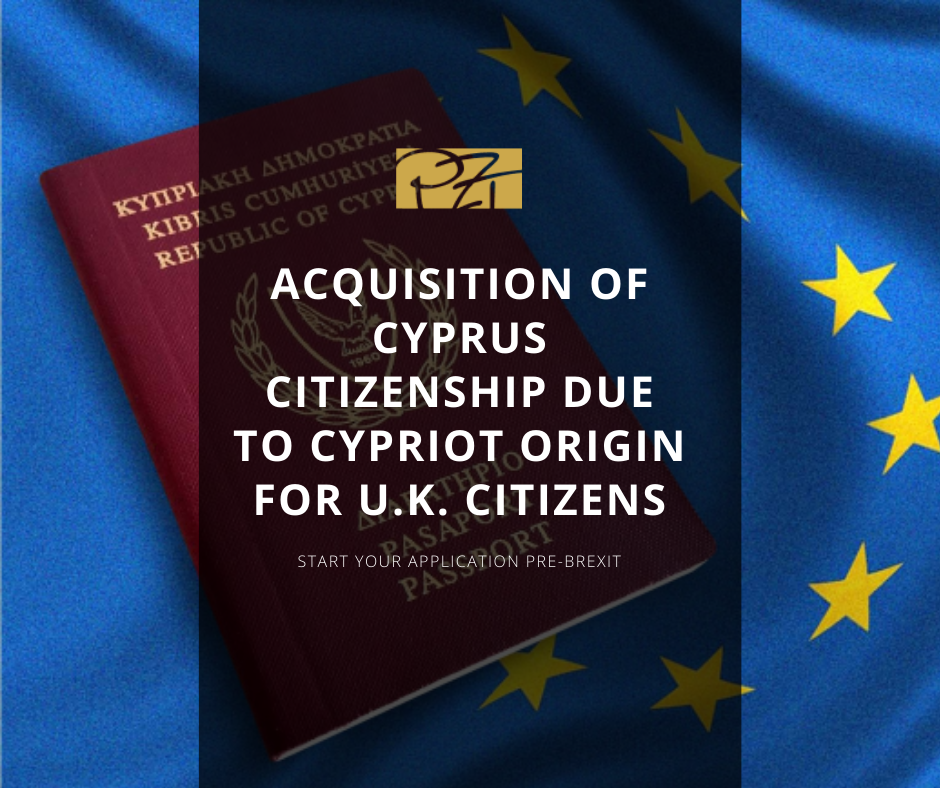 Acquisition of Cyprus Citizenship due to Cypriot Origin.
We are able to guide and assist you with all the steps needed to submit your application along with the relevant required documents and liaise with local authorities to acquire your Cypriot citizenship.
Acquiring the Cyprus citizenship will allow all British people of Cypriot origin to continue enjoying the freedom of movement within the EU after Brexit and for future business dealings in Cyprus e.g. Opening a local bank account, settling an estate etc.
1. Various scenarios we can assist in acquiring your Cypriot citizenship:
a. Adults or Minors, born in the U.K. after the 16th of August 1960 and whose father at the time of birth was a Cypriot citizen, and by individuals born after the 11th of June 1999, whose mother was a Cypriot citizen at the time of their birth.
b. Minors born prior to the 11th of June 1999 in Cyprus or the U.K. and whose mother is a Cypriot citizen and father is foreign or for minors whose father acquired the Cypriot citizenship after their birth.
c. Persons born prior to the 16th of August 1960, citizens of the United Kingdom who originate from Cyprus from the father's side and reside permanently abroad.
d. Adults born on the 16th of August 1960 or after and none of their parents at the date of their birth managed to get the Cypriot citizenship.
e. Adults of Cypriot origin, who were born before the 16th of August 1960 and are British citizens or citizens of any State of the Commonwealth and have completed one year of legal residence in the Republic.
2. Documents needed for Application:
Your birth certificate *
Marriage certificate of the applicant's parents *
Photocopy of the applicant's and the applicant's parents' passports
Certificate of registration of the Cypriot parent (where applicable) – E.g. Copy of any document of parent documenting Cyprus nationality (e.g. Cyprus Id, Cyprus Passport, Cyprus Birth Certificate)
*PLEASE NOTE that if documents have been issued from U.K. government it must be certified with APOSTILLE, this legalises the document by asking the UK government to confirm that a UK public official's signature, seal or stamp on the document is genuine by the legalisation office. You can do this directly through the Legalisation Office through post:
3. Application Procedure: 
Step 1:
a) Signature in application form can either be certified by the  Embassy or Consulate of Cyprus in the U.K. Embassy/Consulate proceeds to sending application to Cyprus authorities, OR
b) Application form can be certified at any District Court in Cyprus with your presence and our guidance.
Step 2:
If application approved, a second application is needed to request an I.D. or Passport. (This will require you presence to provide your bio-metric data)
4. What we handle:
Fill in all required forms for you.
Confirm Documentation required is accurate.
Liaising and direct contact with all local authorities evaluating your application from start to finish.
Assist in your application form being certified by any District Court in Cyprus by accompanying you. (Step 1)
Assist in the second application form needed to apply for a Cyprus I.D. or Passport by accompanying you. (Step 2)
Contact us today to start your application
Address: Griva Digeni 13, Megaro Stavrakis, Office 501, 6030, Larnaca, Cyprus
Telephone: +357 24 623 800   Fax: +357 24 332 991
Email: [email protected]
Website: www.toulouraslaw.com