Articles
Cyprus International Trust Purposes – #3 Preservation of Family Assets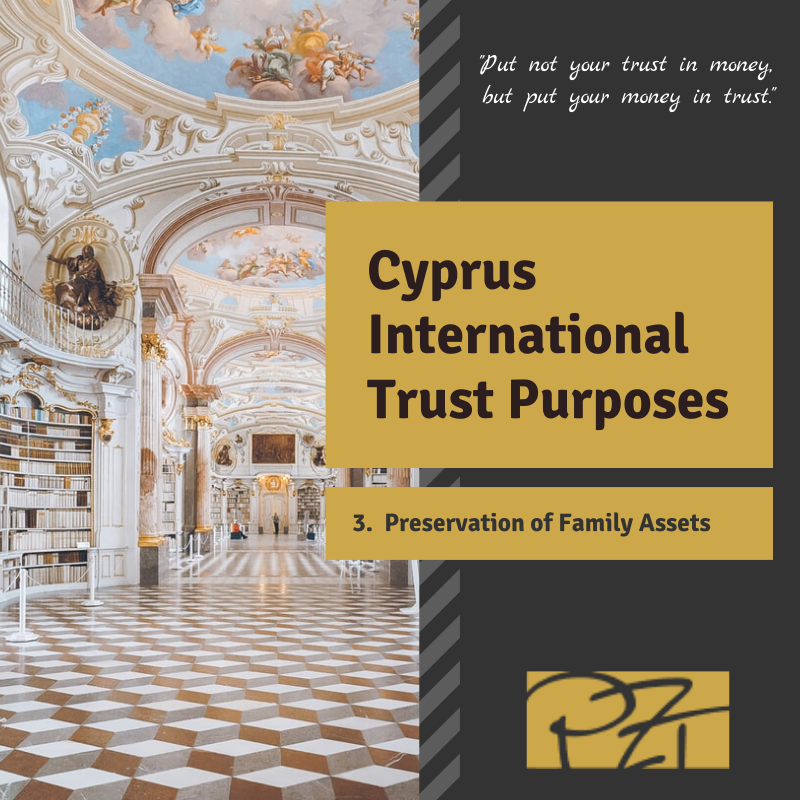 The preservation of family wealth and passing it through the generations can be very complex, Cyprus International Trusts are able to provide assurance that your assets will be protected, used in the way its desired and kept in the family.
A trust structure allows wealth to be kept secure and to provide much-needed protection from any unforeseen circumstances affecting the beneficiaries e.g. such as divorce, death, etc
Trust also allows for conflicts between family members to be avoided when the settlor has passed away but also to ensure that beneficiaries cannot access the money until they are of a sufficiently mature age.
Lastly, a lot of clients use trusts to hold assets for children, to ensure they cannot access the money until they are of a sufficiently mature age. Funds gifted to children which are held in a discretionary trust can reassure the beneficiaries and settlors that it will be used appropriately:
E.g.
Buying Assets; The settlor of a trust can state all the circumstances where the trust money can be released in situations like buying a car where the settlor can even specify even the type of car that can be bought.
Funding school fees: Where the older generation may wish to help a future grand-child financially.
Panayiotis Z. Toulouras LLC provides assistance concerning the formation and administration of Cyprus International Trusts.
Our areas of work include, among others:
Trustee Services
Advising on family asset protection and inheritance issues
Creation of tailor-made wealth management structures to safeguard your assets
Opening, administrating and monitoring all bank accounts
Making distributions to the beneficiaries