Articles
COVID-19 TRAVEL UPDATE: New Exceptions Announced!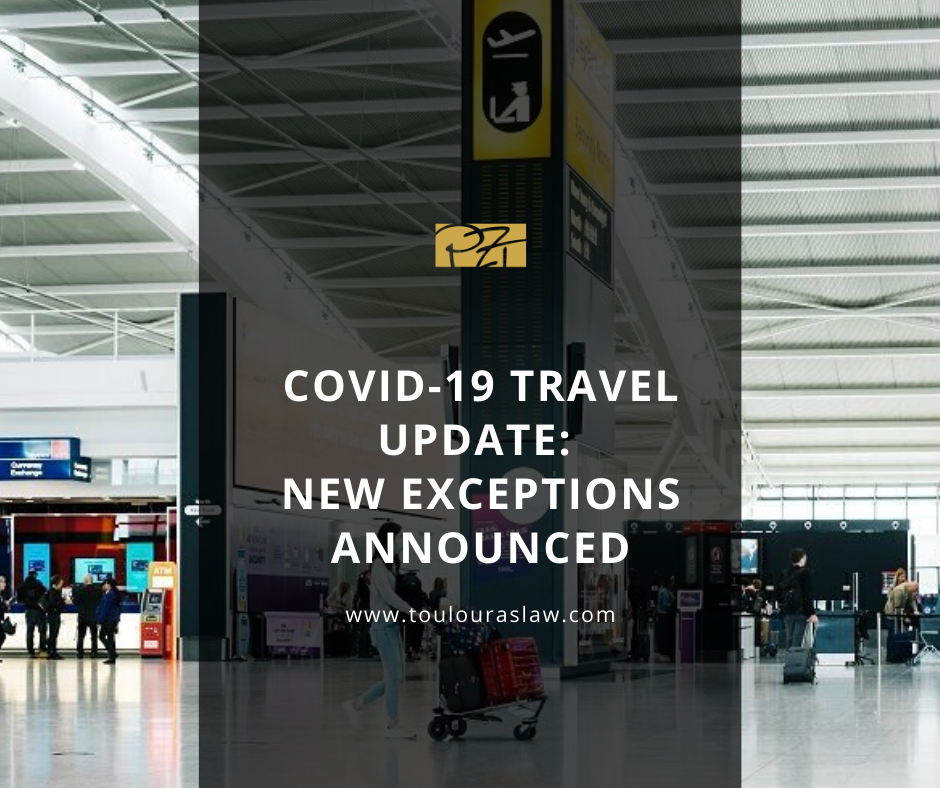 NEW TRAVEL UPDATE
Until 03:00 on 21/3/2020, entry to the Republic of Cyprus will ONLY be granted to individuals who fall under the categories listed below, provided that, upon arrival, they are able to submit a MEDICAL CERTIFICATE, showing that they have been tested for coronavirus by certified medical centers in their country of origin.
HOWEVER, an exception to the Medical Certificate has been announced for the below people that:
Traveled abroad for medical reasons
Are abroad for a short stay for professional reasons or official reasons
Are allowed entry based on Vienna Convention
All those who fall into these categories, rather than presenting a medical certificate must have a confirmation from the diplomatic missions of the Republic of Cyprus, which will be issued provided they present the documentation to prove the reasons.  They can be accompanied back with the people who went with them on the outward trip. The Health Minister added everyone returning will be subject to 14 days of compulsory quarantine, with individuals who had traveled abroad for medical reasons remaining at home to continue their medical treatment.
Categories allowed
Cypriot citizens
Travel documents (ID, Passport)
Legal residents in the Republic of Cyprus
MEU 1,2,3 (yellow slip),  or public utility bill in the name of the interested person for every national of an EU member state
Third-country nationals must present a residence permit
European nationals working in the Republic
MEU 1,2,3 or certificate or receipt from the Department of Social Insurance or a confirmation from an employer
Third country nationals working in the Republic
Nationals of countries who are in a designated diplomatic service or mission under bilateral or international conventions
Diplomatic ID or a non-diplomatic card or confirmation by the competent authority as to the reasons for being in the Republic of Cyprus
Individual cases of European nationals or third-country nationals for unavoidable business obligations, provided that the relevant authorization has been obtained from the competent Ministry
Confirmation from the competent ministry of the Republic of Cyprus as to the reason for the visit
European or third-country citizens attending educational institutions in the Republic of Cyprus.
EU nationals should present a student ID and third-country nationals an ID card and a student's residence permit.
FROM THE 21ST OF MARCH
Cyprus is prohibiting passenger flights from a large number of countries, including the UK, Greece, Lebanon, and Russia from 3 am on March 21 for 14 days as part of preventive measures to contain the spread of COVID-19:
Bahrain, Belarus, Belgium, Bulgaria, Egypt, , Estonia, Germany, Hungary, Ireland, Israel,  Jordan, Latvia, Lebanon, Lithuania, Malta, Netherlands, Norway, Poland, Qatar, Romania, Russia, Serbia, Slovakia, Sweden, Switzerland, Ukraine, the UK, and Greece.
Cypriot citizens who are currently abroad, or intend to travel abroad for exceptional reasons, are encouraged to register on the website www.oikade.gov.cy
Relevant announcements, press releases and information published by the Ministry of Health and other competent Authorities and Services of the Republic, including clarifications from the Ministry of Interior regarding the documentation required for entry to the Republic of Cyprus, are available here: https://www.pio.gov.cy/coronavirus/
PANAYIOTIS Z. TOULOURAS LLC
Address: Griva Digeni 13, Megaro Stavrakis, Office 501, 6030, Larnaca, Cyprus
Telephone: +357 24 623 800   Fax: +357 24 332 991
Email: [email protected]
Website: www.toulouraslaw.com